The most efficient way to isolate and extinguish fire in forklifts, small vehicles and machines, even electric ones.
Single Use
Fire is one of the most common causes of damage and downtime in factories, warehouses and other workplaces. The smoke alone can ruin valuable stock and equipment. If a fire is not isolated quickly, the consequences can be disastrous. The Bridgehill Forklift Fire Blanket enables you to isolate the flames, smoke and toxic fumes in seconds – and extinguish the fire in minutes. It works effectively on forklifts, small vehicles and machinery, and is the only solution to also work on vehicles with lithium batteries.
How it works
Simply drag the Bridgehill Forklift Fire Blanket over the fire to immediately isolate the flames and fumes. The fire will soon extinguish due to lack of oxygen. In electric forklifts- or pallet trucks, the lithium batteries will continue to burn even without oxygen. We recommend to leave the fire blanket on when transporting electric forklifts- and pallet trucks on a tow truck. Tie it properly with a rope or a load strap at tire level.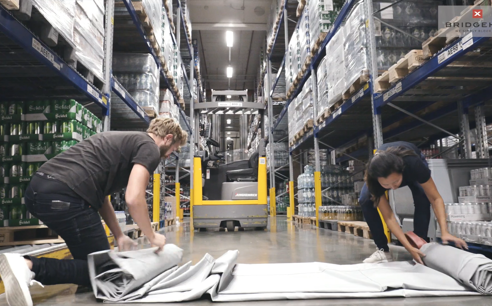 Step 1 – Get ready
Place the fire blanket on the ground in front of or behind the forklift or machinery and roll it out.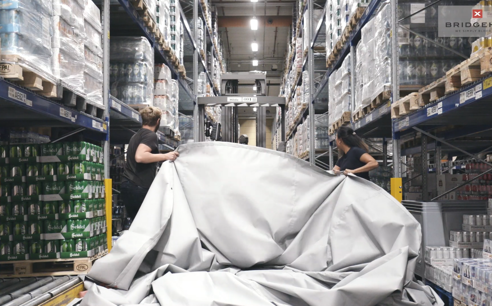 Step 2 – Cover the forklift
Two people should grab each their handle and safely pull the fire blanket over the forklift in one continuous movement.
On forklifts with a tall mast, cover the cabin – not the mast.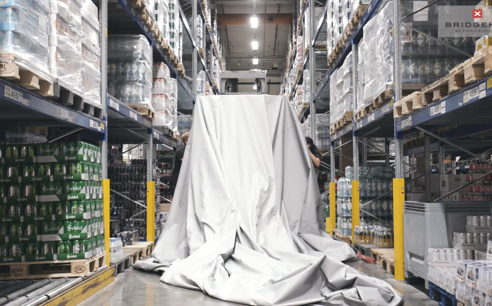 Step 3 – Wait 20 min
Make sure the fire blanket is tight all the way to the ground.
Wait at least 20 minutes before you remove the fire blanket.
Why it works better than powder, water or foam
Traditional extinguishing methods, such as foam and water, release toxic fumes into the air and hazardous substances onto the ground – endangering staff, damaging stock and requiring extensive clean up. Bridgehill Fire Blankets don't. With a Bridgehill Forklift Fire Blanket, you can isolate toxic smoke and fire in seconds, without causing additional damage – to protect you staff, your stock and your uptime.
Fast – isolates fire in seconds
Effective – extinguishes fire in minutes
Simple – can be used by anyone
Stock and user friendly – no toxic fumes or liquids
Universal – effective on work vehicles and machines, even electric ones